Choosing your wedding table linens can be confusing. Some venue have linens in house and show clients books of thousands of designs, overlays, and colors. But let's break it down so you don't break the bank or lose your mind.
First off is the size…
Standard height tables:
72″ round table = 132″ round linen
60″ round table = 120″ round linen
48″ round table = 108″ round linen
36″ round table = 96″ round linen
30″ round table = 90″ round linen
24″ round table = 84″ round linen
Cocktail height tables (42″ high):
36″ round table = 120″ round linen
30″ round table = 114″ round linen
24″ round table = 108″ round linen
For an overlay I would suggest an 84″ square overlay
This works for both 60″ and 72″ round tables
Most venues will offer you 60″ round tables, therefore the easiest to find linen rental size is 120″ round linens.  Other sizes are harder to find, but with enough searching and sometimes the suggestion of a planner or venue coordinator you can find a place to help you out.  When renting online, I would suggest ordering at least 8-6 months before you date to ensure the particular linens and amount you need will be available on your date.  There is nothing sadder than finding the perfect linens, but waiting to order just to find out they are not available or they don't carry enough for all your tables.
Luxury and unique linens can be extremely expensive.  However, they are absolutely amazing to see.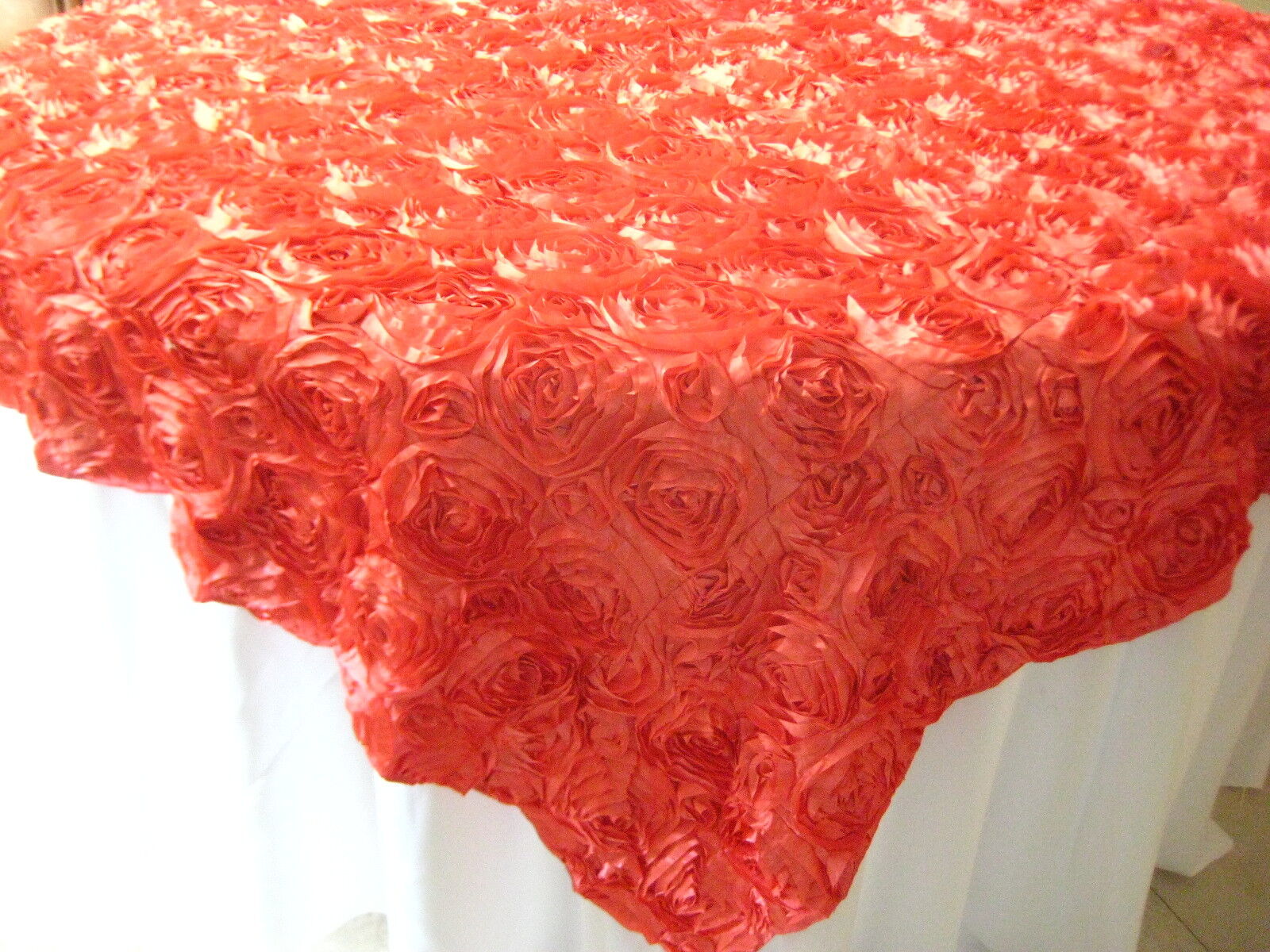 Rather than blowing your budget on luxury linens that frankly can overwhelm an event, why not choose to only use them on a few tables like the sweetheart table, sign in table, and the cake table? With some linens running around $80 per table for linen rental fees, it's silly to use them everywhere. Complement your luxury custom or designer linens with basic solid color ones. They are cheaper and easier for your florist to balance arrangements on
Don't believe me, look up table linen photos a while and see how a single patter on 10 or so tables can look crowded or just "too much". Keeping it just here and there adds a touch of something special.
Check out several linen rental companies before settling. Most of them won't have all of their inventory online, so you will have to go there in person. It's better that way as sometimes I find things look horrible online, but beautiful in person and vice versa. You never know until you see them with your own eyes.
A lot of linen rental places will custom make linens to your taste if they are not available. However, this requires a lot of time, so if you want custom book early! Many of the designer tables you see were custom designed and you'll be shocked to know they only custom designed one or two for a photo for a styled shoot or advertisement. If you really want it, you have to wait for it.
Patterns are nice, but too much pattern and too much of the same everywhere is cluttered looking. The same with the luxury linens which can have a lot going on. That's why many designers will insist a bride have different alternating colors on tables (either the overlay, tablecloth or both) and often times different arrangements for the flowers. Keeping the room from looking like a sea of same and making it interesting so the eye roams around with interest is your goal.
Purchasing linens can be a better and cheaper option if you only want basic colors and styles. Custom designs can usually also be purchased from your linen vendor. That way paying for something so expensive isn't just for one day. You'll have a fancy tablecloth to give out to a bunch of close family or friends.
Ordering online is a nice option if you have someone to set up or if your venue will set up linens you provide. After the event they normally provide a large bag you put all of them into to ship back. They handle the cleaning, so no worries there.
Always consider the big picture and your budget when making your final choices.
Happy Planning!